I will be interviewing five people about their views on 2011 - here is the first one.
As part of my 2011 season review, I am conducting a five-part interview series, where I have carefully selected five people to interview - about their opinions on the season that has just gone by. Here is the first interview.
Jack Leslie is a good friend of mine, and also a fellow F1 blogger. We talk regularly about F1, and our blogs. We have both written two guest articles for each other, and our internet friendship got stronger when we agreed that as part of our season reviews, we would interview each other. Jack is a big Jenson Button fan, but can clearly also see the talent of Lewis Hamilton, Fernando Alonso, Sebastian Vettel and many others. Here is the interview:
1) Many people have said that this year's racing was better than 2010's, would you agree?
Yes, I would. 2010 saw frustrated drivers with lack of overtaking and drama, this year has really brought it up a few levels which is great for the fans and the drivers, as there are battles throughout the field.
2) In your opinion, what was the best Grand Prix of this 19-race season?
Canada really proved that Jenson Button can overtake. A lot of people had doubted his overtaking abilities due to his driving style being easier on tyres, so many thought strategy brought him luck. However this race saw him go from last to first in one of the most dramatic races of the season. Vettel going wide on the last lap was a welcome relief for others who thought he was going to walk every race, but I reckon Jenson would have got him at the end. The race was also the longest, do not get me wrong the wait while the race was red flagged was boring but it was worth waiting for.
3) And who would you say was the best driver of the season?
You can not take Vettel out of the equation. He has been almost perfect every race and when he wins, its an easy win. Would he have got the same results if he was in a Mclaren or Ferrari? That's debatable, but I think he really impressed and thats why he walked it, he has the raw ability. Also a mention for Paul Di Resta and Jenson Button. Paul really proved himself in the latter and mid season races, with some impressive results. Button had an incredible last half of the season, it was probably on par with his 2009 championship winning year.
4) Who do you think were the most improved team in 2011?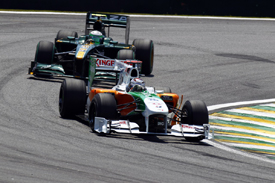 Jack's two most improved teams
I would split it between Team Lotus and Force India. If you look at Team Lotus's pace last year they were about 3 seconds off the pace of the midfield but this year they really stepped it up; often being just half a second or beating the midfield runners. Kovalainen's starts also impressed without KERS. I am currently doing a poll about the best driver of the season and he is currently leading so alot of people are impressed with the team's efforts, congratulations now "Team Caterham." Force India as well also improved greatly. 2010 was a year of progress and they have carried it over to being the 5th fastest team on all of the latter half of the seasons races, even 4th fastest at times. It was really an impressive change of direction.
5) Sebastian Vettel drove an almighty season, winning eleven races. Which of those wins do you think was most impressive?
To be honest they all seem to blend into one another, but Korea was great. He really pushed and the result was yet another walk over but he still had to stay ahead of Hamilton, and his 1st lap pass on Lewis was great and very opportunistic.
6) In your opinion, what was the single best drive of the season?
As I said in the best race of the season, got to be Jenson Button in Canada. Although Abu Dhabi was impressive for Hamilton too; a great way to boost his spirits.
7) We had four rookies this season; Pastor Maldonado, Jerome D'Ambrosio, Paul di Resta and Sergio Perez. Who in your opinion was the most impressive in 2011?
As I said before again, Paul Di Resta for me was very impressive and consistent. He had great raw pace and beat his team mate on numerous occassions. Perez also deserves a mention as his ability to save his tyres was very good and he bounced back from that heavy crash in Monaco very well. Maldonado, I can not really understand why he has just signed with Williams for 2012. Out of the 5 points the team scored he only scored 1. Along with his numerous crashes and incidents he was very inconsistent, which could be expected from a rookie. He is the definition of a "pay driver" I'm afraid, but I am waiting for him to prove me wrong in 2012. D'Ambrosio had a quiet year at the back but on many occasions he beat his team mate which is a success in its own right, but we know it obviously was not enough to retain his seat.
8) What were your thoughts on the Pirelli tyres this season?
They delivered more in the first part of the season than the last. Races like Spain and Turkey were really spiced up by the tyres but towards the end it became a bit more conservative. It was a very strong learning curve for Pirelli but 2012 will be better.
9) What were your thoughts on the KERS system this season?
Obviously in 2009 only a few teams opted for the device, but this year more teams did. I think this was because they needed to keep up and if they did not have it that would not of happened. With all the teams in 2012 opting for it that should bring the backmarkers closer. It really did bring more strategic aspects to the racing this year and some great overtakes were the result of KERS so it impressed me a lot.
10) What were your thoughts on the DRS system this season?
In a recent interview I did with an F1 fan called Ilaria she said DRS had made F1 artificial. I agree to some degree with this as especially at double DRS zones like Abu Dhabi they would get past in the first zone and lose their position in the second. Canada however showed it could work depending on the track layout. Some great passes have come out of it but I agree with some drivers that it can be dangerous in Qualifying or Practice being able to have it on all the time.
11) A lot has been made of Michael Schumacher in the last two years, do you think he will ever win another race, or even reach the podium?
No I am afraid not. I dont think Mercedes will ever make a race winning car while he is still racing. He should really give up soon because there are so many young drivers who want to have a go and try and win, but I feel he is just doing it so he is not bored. I could be wrong though.

Jack's top three drivers
12) I recently wrote an article discussing my thoughts on the best driver on the grid, narrowing it down to Lewis Hamilton, Fernando Alonso and Sebastian Vettel, and then stating that I believe Alonso is the best. Who are your top three, and of those three, who is the best? Was that for my blog by any chance?! I would narrow it down to Vettel, Button and Hamilton. I do not think Alonso had upped his game enough this year and the others have overtook him in terms of raw speed. My top 3 are just sublime and when they are on "it", you can really tell.
13) In one word: Who will win the 2012 Constructor's Championship?
I think it will be Red Bull again, unfortunately.
14) In one word: Who will win the 2012 Driver's Championship?
I can not use one word for that, as they have 2 names. But all jokes aside I think it will be Vettel again.
Those are Jack's answers. Please feel free to comment on this interview. What do you agree with? What do you disagree with? Would you say Alonso isn't in the top 3? Will Vettel and Red Bull win again in 2012? Is Schumacher avoiding boredom? Did DRS work in Canada? These are all points raised by Jack in this interview, and I'm sure he and I would both love to hear your opinions.
Visit Jack's blog
Jack interviews me
Browse all my season review articles