The battle at Mercedes created one of the most intriguing intra-team battles of 2011, but no podiums for either.
Drivers: Michael Schumacher, Nico Rosberg
Best Finish: 4th (Canada)
Best Qualifying Result: 3rd (Turkey)
Points: 165
Constructor's Championship: 4th
GRADE: C
At first glance, seeing that Mercedes got no podiums this year when last year they got three, it would appear that they had a worse season this year than last year. However, I believe that is not the case. Both drivers drove better than last season, and one of the best bits, if not the best bit, about the MGP-W02 was its straight-line speed. The season started awfully though, with both Schumacher and Rosberg retiring in Australia. Their first points came in Malaysia, with Michael Schumacher's ninth. However, Rosberg was out of the points again. Next came China, and a far more impressive race, with Michael Schumacher finishing eighth despite defending hard from Fernando Alonso, while Nico Rosberg drove an excellent race to fifth. Rosberg was again fifth in Turkey after starting third, while Schumacher's contact with Vitaly Petrov put him out of the points. Spain was a strong showing, with Schumacher sixth, and Rosberg just behind, in seventh. There were no points in Monaco, but Schumacher performed brilliantly in Canada, making one of the overtakes of the season, passing Massa and Kobayashi at the same time before finishing fourth. Rosberg was in the top seven in the next three races, before a ninth in Hungary. Belgium was a great race for the team, Rosberg taking the lead at the start with a wonderful getaway, and Schumacher coming from 24th to finishing 5th, with a well deserved eighteen points for the team. Another strong race for Schumacher in Italy took him fifth place, while Rosberg took advantage of Schumacher crashing in Singapore to claim seventh. A double points scoring finish in Japan was replicated in India, with a brilliant fifth and sixth place. The drivers battled on the opening lap in Abu Dhabi, with Rosberg coming out on top and finishing sixth, before a seventh in Brazil confirmed that he finished ahead of his team mate in the standings. Both drivers were improved on 2010 performances, and surely if they can make a good car, Schumacher and Rosberg will be winning races.
MICHAEL SCHUMACHER
Best Finish: 4th (Canada)
P
oints: 76
Driver's Championship: 8th
GRADE: C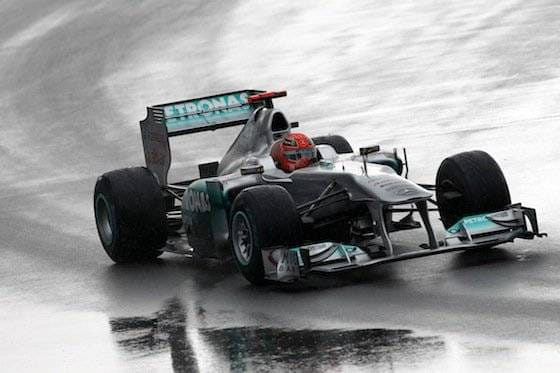 Schumacher's magnificent Canada drive

The seven time Formula One world champion and arguably the best driver of all time showed flashes of his former self as he closed down his younger team mate Nico Rosberg and finished just fourteen points behind him, as opposed to seventy in 2010. The German legend retired in Australia, failing to get into Q3. He didn't make the cut in Malaysia either, but took his first points with ninth. Schumacher battled for a long time with Fernando Alonso in China, holding him off for a while before succumbing and finishing eighth. Schumacher made contact with Vitaly Petrov in Turkey, and failed to score points. Schumacher was sixth in Spain, beating his team mate, who was just behind. Monaco was going really well for Schumacher, brilliantly overtaking Hamilton, which featured in my overtakes of the season, before retiring with a mechanical failure. Schumacher then produced a wonderful drive in Canada, making another of the top overtakes, passing Massa and Kobayashi at the same time, running 2nd. Unfortunately, the DRS meant he was breezed past late on by Webber and Button, but it was still an excellent drive. Schumacher's second collision with Petrov came in Valencia, as he failed to score points. He was ninth and eighth in Britain and Germany, despite a penalty and a spin in the respective races. Belgium was Schumacher's 20th anniversary of his first race, and qualifying didn't do justice to that. A mechanical failure caused him to crash, meaning he started 24th and last. However, he brilliantly worked his way up to fifth. He was fifth again in Monza, after some excellent defending from Lewis Hamilton, keeping the McLaren man behind him for more than 20 laps. A crash in Singapore was followed with a sixth in Japan. His final collision with Petrov came in Korea, when the Renault driver stupidly crashed into him. India was a great race, using a good strategy to finish fifth. A seventh in Abu Dhabi was followed with a pointless finish in Brazil, concluding a massively improved season. One thing he needs to work on is his qualifying pace, but as proved in Canada, Britain, Belgium, Italy and India - this man still has it.
NICO ROSBERG
Best Finish: 5th (China, Turkey)
P
oints: 89
Driver's Championship: 10th
GRADE: C
Rosberg brilliantly led after a fantastic start in Spa
Rosberg is clearly a very talented driver, and one that surely has a bright future. He is highly rated, so much so that some predict he will drive for Ferrari in 2013. And it was another solid season for Rosberg, beating Schumacher again, though only just - here's how it happened: A poor start to the year, actually, for Rosberg, as despite what was a good drive in Melbourne, Rubens Barrichello stupidly crashed into him, forcing him to retire. Rosberg started ninth in Malaysia but finished twelfth, out of the points. He had a brilliant weekend in China, qualifying fourth and finishing fifth after leading fourteen laps during the race. Another strong weekend followed in Turkey, qualifying third this time and finishing fifth again. He came seventh in Spain, finishing just behind his team mate. He was just out of the points in Monaco and Canada, after a very heavy crash in practice in the former. Valencia was his return to the points, losing an early battle with Jenson Button, but still finishing seventh, before an excellent sixth in Silverstone. Germany was his home race, and it was a strong one, taking seventh position. Rosberg added two extra points in Hungary, before a great race at Spa. He qualified a very good fifth, and made a wonderful start, moving up to 2nd into Turn One, but Rosberg wasn't content with that. He passed Vettel on the straight, and led the first lap. His straight line speed was magnificent, and though he finished sixth, it was a great drive. Rosberg was a passenger as he was unluckily taken out by Tonio Liuzzi in the first corner of the Italian Grand Prix. Rosberg was seventh in Singapore, before an excellent drive from 23rd to 10th in Japan, after a problem in qualifying. More points in Korea and India helped him to have a lead over his team mate which was just enough, and he followed this up by beating Schumacher to sixth in Abu Dhabi, and taking seventh in Brazil, meaning he beat Schumacher for the second season in a row. Another strong season for Rosberg, but with this year's gap between the team mates much closer, it will be interesting to see how the countrymen fare in 2012, for Mercedes.
Browse all season review articles